Introduction


Introduction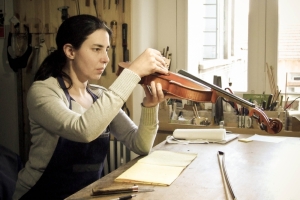 Fascinated by the know-how of traditional craftsmen and seduced by the wold of music, at the age of 15, I naturally veered towards training in Violin Making and Repair. I therefore, studied for 5 years at the
French School of Violin Making
, at Mirecourt, where I gained a technical Diploma in instrument making, specializing in violins as well as a Diploma in restoration (Diplôme des Métiers d'Art). This enabled me to receive cello lessons at the same time.
In addition, during those years of training, I also did a number of internships in various workshops throughout Europe such as
Jan Strick's
in Brussels, Bruno Dreux´s in Orléans and
Denis Eschenbrenner's
in Lyon amongst others.
Wilder and Davis'
workshop in Montreal for 2 years and then worked for 5 years as an assistant to
Christian Bayon
in Lisbon. I have increased my knowledge and learnt new techniques in restoration, repairs and bow making, surrounded by the most beautiful instruments and bows.
On the strength of that experience, I opened my own workshop in Seville in 2006 and moved it to Lisbon in 2013.